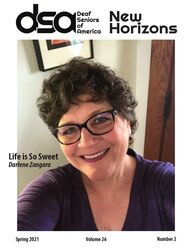 Return to flip book view
DSA New Horizons / Spring 2021 (Sneak Preview)
Page 1
Spring 2021Volume 26Number 2NewHorizonsLife is So SweetDarlene Zangara
Page 2
Alfred SonnenstrahlDSA President3We regret that the 2021 DSA Conference inPittsburgh has been cancelled. The Boardmet several times to discuss alternatives.After reviewing our current bylaws with theBylaws chair and consulting with a certiedparliamentarian, we agreed to cancel our2021 conference. Our next conference willbe held June 24-30, 2023, in Hollywood,Florida. See the centerfold of this issue ofNew Horizons. You'll nd the 2023 DSAregistration form in this issue as well. Thosewho already bought tickets for the 2021 DSAPittsburgh conference will have a choice tohave tickets transferred to the 2023 DSAconference instead of receiving refunds.The Board agreed to host several webinarsand an open forum this fall. More details willbe announced in the next New Horizonsissue, on our Deaf Seniors of AmericaFacebook page, and on our website(www.deafseniors.us). Keep your eyes onthese valuable sources of information.Also, the current Board has agreed to extendtheir terms until the 2023 DSA conference.Because of this extension, there will be nonominations for elected oces this year.In view of what has happened, the Bylawscommittee is planning to review and proposesome additions related to conferencecancellations. Such additions will bereviewed by members at the 2023 DSAconference.We will continue to solicit nominations for theDSA biennial awards. More details are listedin this New Horizons issue. The deadline isstill July 31, 2021. We will announce theawardees during the open forum in the fall.In closing, we need volunteers to assist inkeeping our DSA website resourceful andcurrent. For more information, contactpresident@deafseniors.us.Stay well!Sonny's MusingsTable of ContentsSonny's Musings ............................................................................................................. 3Editor's Corner................................................................................................................. 5Letters to the Editor ........................................................................................................ 6DSA Award Nominations................................................................................................. 7DSA Regional Representatives & Regional Aliates................................................8-11Aging and Dental Health by Steve Rattner..............................................................12-23A Spoonful of Flavor by Eric Scheir.............................................................................. 14Libraries and You by Susan Cohen............................................................................... 15Traveling Soon? by Andy Lange ................................................................................... 16DSA Treasurer's Report................................................................................................. 17DSA 2023 Conference in Hollywood .......................................................................18-21Organizing Your Finances When Your Spouse Has Died .......................................22-24In Memoriam.................................................................................................................. 25DSA Bylaws Report ...................................................................................................... 25Life is So Sweet by Darlene Zangara ......................................................................26-28Pittsburgh, Thank You!.................................................................................................. 29
Page 3
5Muriel StrasslerDSA New Horizons EditorEditor's CornerIf you fall down, can you get up? This is aquestion that worries many seniors. Andthere's a test that can help you determine ifyou need to make body strength a higherpriority.The sit-down-stand-up test is a long life testdeveloped by a team of Brazilian doctors in2012, and written up in theEuropean Journalof Preventive Cardiology.It has proven to bepredictive of how long you'll live—or, to bemore accurate, of how long you won't.The test is simple: Just sit on the oor from astanding position without using your hands,arms, or knees to slow your descent. Thenstand back up—without using your hands,arms, or knees to help boost you back up, ifpossible. (Hint: Crossing your legs on theway down and the way up seems to help,and loosely holding your arms out to yoursides can help with balance.)In the Brazilian study, 2002 men and womenages 51 to 80 were followed for an average of6.3 years. Those who needed to use bothhands and knees to get up and down werealmost seven times more likely to die withinsix years than those who could get up anddown without support.Their musculoskeletaltness, as measured by the test, was lacking.And musculoskeletal tness is veryimportant.Move, Please!According toThe Washington Post,the testis a good measure of leg and core strength,as well as balance. Older adults who havegood muscular strength and exibility areless likely to fall. And falls are the leadingcause of unintentional-injury-related deathsfor people ages 65 and older, according tothe Centers for Disease Control andPrevention."It is well known that aerobic tness isstrongly related to survival," study authorClaudio Gil Soares de Araújo, professor atGama Filho University in Rio de Janeiro, said,"but our study also shows that maintaininghigh levels of body exibility, muscle strengthand coordination also has a favorableinuence on life expectancy."So favorable that it's worth practicing for.If you're sitting on the oor worried becauseyou can't get up, the good news is thatunless you have complications such asarthritis or inner ear problems or otherproblems, you can work on it, and you'll likelyimprove over time. "You can practice everyday—teaching to the test, in other words,"said Barbara Resnick, professor and chair ofgerontology at the University of Maryland.I plan to practice this test every morning at10:00 EST starting July 1.Join me if you can!
Page 4
7DSA Award NominationsNancy B. RarusChair, DSA Awards CommitteeDistinguished Service AwardGiven to the person who has worked veryhard for Deaf seniors, either nationally orlocally.Award criteria:• May or may not be a member of DSA;• Should have a longstanding involvementwith a Deaf senior organization;• Must have served voluntarily, type andlength of service must be indicated;• Can be deaf or hearing; and• Can be living or deceased.Organizational Achievement AwardGiven to a local or state organization whichhas an excellent track record in serving Deafseniors.Award criteria:• Provide proof of outstanding service by agroup beneting deaf seniors bysubmitting:• Documents from newspapers,newsletters, or website content,supporting the group or organizationbeing recommended;• A letter from organization's president; or• At least two letters from organizationmember or other person making therecommendation.Ralph H. White Extra Mile AwardGiven to a person or persons who servedthe Deaf seniors in his/her/their community.Award criteria:• Must be members of the DSA;• Have made signicant contributions toDeaf seniors;• Must have served voluntarily, type andlength of service must be indicated; and• Can be living or deceased.Nominations DeadlinePlease submit nominations with rationale byJuly 31, 2021 via email tonbrarus@gmail.comor postal mail to:Nancy B. Rarus, DSA Awards Chair403 Greear PlaceHerndon, VA 20170Hollywood Beach/Shoreline
Page 5
9Marion Dramin217-953-0834mariondramin@gmail.comAbout Marion:• Attended Clarke Schoolfor the Deaf and AmericanInternational College in MA• Lives in Springeld, IL• Outreach manager at ILTelecommunications Access Corporation• Two-term commissioner for the IllinoisDeaf and Hard of Hearing Commission• Served on the Springeld DisabilitiesCommission• Former 10-pin bowler, deaf activist andmember of several deaf organizationsin IL• Enjoys TV sports (Red Sox and ChicagoBears are her favorites), reading, andfooling around with the computer as aghost writer for a couple of deaforganizationsPaul Kiel314-282-4557myfavaslworld@yahoo.comAbout Paul:• Attended CentralInstitute for the Deaf andWebster Groves High School• Attended Gallaudet and NTID, andgraduated from the University of Missouriat St. Louis• Lives in St. Louis, MO• Taught ASL at community and universitylevels• Taught ASL at Purple/ZVRS• Involved with MOAD, GSLAD, and issecretary of Gateway Silent Seniors• Enjoys reading, hiking, collectingantiques, doing artwork, bowling, roadtraveling, gardening, and boating• Happy to be working with you in theRegion 2 area!Region 2
Page 6
12Gum DiseaseGum disease happens to one out of everytwo American adults. It is an infection of thetissue and often starts without pain.Symptoms may not appear until the diseasereaches an advanced stage. Roughly 65million people have some form of gumdisease ranging from mild gingivitis(inammation of the gum) to advancedperiodontitis (inammation of the gum withsevere supporting bone loss).Dryness in the MouthIn addition to gum disease, xerostomia(dryness in the mouth) is one of the mostcommon symptoms that aect 30% ofpatients 65+ years old and up to 40% ofpatients age 80+. It involves a change in thecomposition of saliva or reduced saliva owfrom medical complications.Xerostomia is often caused by takingmultiple medications or by radiation orchemotherapy. It can create dental issuessuch as carious lesions, tongue ssures,plaque accumulation, gum disease, anddiculty in wearing or retaining oralprostheses such as removable dentures.Risk factors that can lead to gum diseaseinclude: poor oral hygiene, smoking,diabetes, excessive daily medications,and/or a family history of gum disease.Dental Cleaning & FrequencyThe best approach to control your oral healthis to be proactive with your home dental careand routine dental visits. Patients often askme if their dental insurance will cover morethan two cleaning visits a year. Please don'tlet the number of allowable cleaning visitsunder your dental insurance control yourdental health.Cleaning visits are aordable and help tocontrol your medical conditions. Forinstance, people with diabetic disorder,especially with Type 2 diabetes, can controlor improve their hemoglobin A1C score byreducing the amount of plaque accumulationin their mouths with frequent dentalcleanings. Having your teeth cleaned threeor four times a year produces far betterdental health than just twice a year.Toothpaste & BrushingYour toothpaste should have least one ortwo important ingredients: sodium orstannous uoride and potassium nitrate.Fluoride helps to protect weakened toothenamel and reverse early tooth decay.Potassium nitrate is an active component inAging & Dental HealthBySteve Rattner, DDS
Page 7
A Spoonful of FlavorBy Eric ScheirChicken in Orange Cream SauceIf you likeoranges, thisrecipe is foryou! Thisdish gets atriple dose oforange withfresh orangeslices, orange juice and Grand Marnier. Andas you already know, orange and cream are amatch made in heaven.Ingredients• 2 tbs. olive oil• 4 (6 to 8 ounce) boneless free-range,skinless chicken breasts• 3/4 tsp. sea salt• 1/2 tsp. black pepper• 4 tbsp. our• 2 tbsp. butter• 2 tbsp. chopped shallots• 1 tbsp. chopped fresh garlic• 1/4 cup Grand Marnier• 1/4 cup fresh orange juice• 3/4 cup heavy organic whipped cream• 1/4 cup organic chicken stock• 3 oranges, peeled and sliced, forgarnish• 2 tbsp. chopped fresh Italian parsley,for garnishInstructions1. Heat olive oil in a large sauté pan on highheat until sizzling, about 2 minutes.2. Season the chicken breasts with our, seasalt and black pepper; shake in largeZiploc bag.3. Cook chicken until browned, about 2minutes on each side. Remove chicken,place on a plate and set aside. Discardoil in the pan.4. Cook butter in the same pan over mediumheat until sizzling, about 2 minutes. Addshallots and garlic and cook for 3 minutesuntil light golden brown.5. Pour in Grand Marnier liqueur, stirring wellto dislodge pan residues; cook for 2minutes. Add orange juice, heavywhipped cream, and organic chickenstock and bring back to a boil.6. Reduce heat to low, add browned chickenbreasts and simmer for 10 minutes untilthe sauce thickens.7. To serve, place a chicken breast in themiddle of each serving dish (serves 4).Add 2 slices of oranges on top, thencover with sauce. Garnish with choppedfresh Italian parsley.Bon Appetit!Eric Scheir lives in Seattle, WA, where he worksas a Deaf interpreter and as a tour guide forHeart Cruises, LLC. And, of course, he lovesto cook!14
Page 8
16Planning to travel soon? What's the numberone thing people hate about traveling?Waiting in line. Traveling through airportsmeans a lot of lines. Getting a TransportationSecurity Association (TSA) PreCheck is oneway to cut down on waiting in line, especiallyat the TSA Security checkpoint. What aboutGlobal Entry? This is good for people whotravel internationally; it means less waiting inlines at the customs entry to the U.S. Belowis some information about the TSA PreCheckand Global Entry from the the AARP Bulletin.TSA PreCheckThe TSA oers PreCheck to qualiedtravelers. It is available in more than 200airports nationwide, and more than 70airlines participate in it. Search this TSAmap for specics https://www.tsa.gov/precheck/map. As a TSA PreCheck member,you do not need to take o your shoes, belt,or light jacket when you go through security,and you do not have to remove liquids or alaptop from your carry-on. More than 10million people are TSA PreCheck members.It takes about ve minutes to complete yourTSA PreCheck application online at https://www.tsa.gov/precheck. One important note:The name on your application must exactlymatch the name on your identication, and itmust be the name used when making yourairline reservations.Now what? During your TSA PreCheckapplication, you will schedule a 10-minutein-person appointment at a TSA enrollmentcenter. Enrollment centers can be found at:https://universalenroll.dhs.gov/locator.There, you will provide your identicationdocuments such as a passport, and get yourngerprints taken. For more information,check https://universalenroll.dhs.gov/workows?servicecode=11115V&service=required-docs. The $85 fee includesmembership in TSA PreCheck for ve years.How to Use Your TSA PreCheck.When you book a ight, make sure you enteryour Known Traveler Number (KTN) in yourairline ight prole. Your TSA PreCheck statuswill show up on your boarding pass, allowingyou to access the expedited security lines inthe airport. The length of security lines diersat every airport—even with TSA PreCheck,you could still face a lengthy wait. To checkwait times, get the MyTSA app (https://www.tsa.gov/mobile).What is Global Entry?Oered by the U.S. Customs and BorderProtection, Global Entry is a similar programfor international travelers. It providesexpedited clearance for preapproved, low-risktravelers upon arrival in the United States. Formore information, see https://www.cbp.gov/travel/trusted-traveler-programs/global-entry.Money Saving TipGlobal Entry includes TSA PreCheck, so if youapply for Global Entry rst and pay $100, youcan get the benets of both programs. If youapply for TSA PreCheck rst and decide laterto apply for Global Entry, you will pay the $85TSA PreCheck fee in addition to the $100Global Entry fee.Travel experts are predicting high numbers ofpeople getting ready to travel again soon! Ifyou are planning a trip, make sure you have apassport and TSA Pre-Check, If you aretraveling outside the U.S., Global Entry is agood thing to have, too.Plan ahead and give yourself four to sixmonths to get these documents in placebefore you start traveling.Andy Lange is a certied CLIA (Cruise LinesInternational Association) Master CruiseCounselor.Traveling Soon?ByAndy Lange
Page 9
Page 10
23Evaluate short-term income andexpensesWhen your spouse dies, you may have someimmediate expenses to take care of, such asfuneral costs and outstanding debts thatyour spouse may have incurred such ascredit cards or a car loan. Even if you areexpecting money from an insurance or estatesettlement, you may not have the funds topay for those expenses right away. If that isthe case, don't panic--you have severaloptions. If your spouse had a life insurancepolicy that named you as the beneciary, youmay be able to get the life insuranceproceeds within a few days after you le. Inthe meantime, you can use credit cards forcertain expenses. Also, you can try tonegotiate with creditors to allow you topostpone payment of certain debts for 30days or more, if necessary.Avoid hasty decisionsDon't think about moving from your currenthome until you can make a decision basedon reason rather than emotion.Don't spend money impulsively. When you'regrieving, you may be especially vulnerable topressure from salespeople.Don't cave in to pressure to sell or give awayyour spouse's possessions. Wait until youcan make clear-headed decisions.Don't give or loan money to others withoutreviewing your nances rst, taking intoaccount your present and future needs andobligations.Work closely with a nancial advisor toadjust your nancial plan based on your newcircumstances.Securities and Investment Advisory Servicesoffered through FSC Securities Corporation,member FINRA/SIPC. Traditional/Fixed insuranceoffered through Kramer Wealth Managers whichis not afliated with FSC Securities Corporation.Neither Kramer Wealth Managers nor FSCSecurities provides tax or legal advice. Branchofce: 9099 Ridgeeld Drive, Suite 101,Frederick, MD 21701; 240.379.6929 V.240.439.6889 VPA shot of whiskey. In the old West, a .45cartridge for a six-gun cost 12 cents, so dida glass of whiskey. If a cowhand were lowon cash, he would often give the bartender acartridge in exchange for a drink. Thisbecame known as a "shot" of whiskey.Buying the farm. This is synonymouswith dying. During WWI, soldiers were givenlife insurance policies worth $5,000. Thiswas about the price of an average farm,so if you died, you "bought the farm"for your survivors.An ironclad contract. This came about fromthe ironclad ships of the Civil War. It meantsomething so strong it could not be broken.Sleep tight. Early beds were made with awooden frame. Robes were tied across theframe in a crisscross pattern. A strawmattress was then put on top of the ropes.Over time, the ropes stretched, causing thebed to sag. The owner would then tightenthe ropes to get a better night's sleep.Hot o the press. As the paper goesthrough the rotary printing press, frictioncauses it to heat up. Therefore, if you graba paper right o the press, it's hot.The expression means to getimmediate information.There, don't you feel smarter now?!Thanks to DSA President Al Sonnenstrahlfor passing these funnies on to us.Great Trivia
Page 11
25Norwood, Marjorie HaleNew Carrollton, MDDate of Death: 13 January 2021 (Age 88)American School for the DeafWorked for US Air ForceJohnson, Dr. Richard K.Selbyville, DEDate of Death: 7 February 2021 (Age 88)Gallaudet UniversitySenior Researcher, National Institute onDisability and Rehabilitation ResearchBeal, Marilyn JaneMaple Ridge, British ColumbiaDate of Death: 15 March 2021 (Age 76)Jericho Hill School for the Deaf; AlbertaSchool for the Deaf;Gallaudet UniversityTeacher of Deaf childrenPerry, AccieSelbyville, DEDate of Death: 6 April 2021 (Age 79)West Virginia School for the DeafPrinterBrown Jr., William J.Woburn, MADate of Death: 13 March 2021 (Age 77)Upsala Street School; Clarke School forthe DeafAssumption Preparatory School; DeanJunior CollegeNational Technical Institute for the Deaf atRochester Institute of TechnologyComputer programmer for XeroxCompiled by Shirley Platt & Louis SchwarzIn MemoriamNow that DSA 2021 Pittsburgh has beencancelled, and in accordance with the DSABylaws, the Bylaws Committee will continueto accept proposed amendments to ourbylaws until 120 days before the 2023 DSAconference.Proposed amendments can besent to haroldandmarymowl@gmail.com.An inquiry was made by one of our membersabout how the bylaws should include the agewhen one can become a member of DSA.It is already stated as age 50 in Article III(Membership). Should this also appear inArticle I (Denition)? The Bylaws Committeewill review the inquiry when it meets prior tothe 2023 DSA Conference.In response to the Committee's report in theNew Horizons Winter 2021 issue, ScottKramer and Sharon Wilson volunteered toserve on the Bylaws Committee. HarveyCorson, Andy Lange and I welcome them towork with us.The Bylaws Committee will keep the DSAmembership updated as needed.DSA Bylaws Committee ReportHarold MowlChair, Bylaws Committee
Page 12
26I got the call for an interview for my dreamjob—executive director of the MinnesotaCommission for the Deaf and Hard ofHearing (MNCDHH). I wanted that job somuch. I wanted to make a dierence for mycommunity.I also had these awful pains in my stomach.The doctor said it is pancreatitis. Every berof my being was on red alert. I thought of myfather, of Bob, my stepfather, and Aunt Pam.I told the doctor I thought I neededmore tests. Ientered thehospital forinamedpancreas.I convinced thedoctor torelease me so Icould go to theinterview for thejob that I wantedso much.I enjoyed theinterview. Thecommittee wasclear on what theywanted for thefuture of theCommission. It wasperfect for me.A week later, I wasoered the job. I waselated and proud. Iwas and am ready tohelp make positivechanges for Minnesota.A week later, I underwent more testing. Thediagnosis came back quickly. Pancreaticcancer. As I tried to digest this, I thought ofso many other people who have battled thisbeast and lost—Dad, Bob, Aunt Pam, andPatrick Swayze from "Dirty Dancing,"Michael Landon from "Little House on thePrairie."I thought of my husband, Mark, and our twoprecious adult sons. There was so muchmore for me to do and experience! I wantedto be a Grandma. I wanted the chance tolead the Commission. My faith in God wasbeing tested. My world was spinning. Tosave my life, I realized I needed to surrender.Cancer is in control now. My circle and myfaith stepped in to carry me.Mark and I met with a surgeon.Dr. Wolpert told me I couldn'thave surgery because thetumor was in the neck of thepancreas, a tricky area for asurgeon due to the access toimportant vessels. Thesurgeon recommendedchemotherapy. "We'll try toshrink the tumor rst, andthen reevaluate," he told us.We left his oce devastated.I could be facing death.We met with an oncologist,Dr. Ji. She pointed out acritical aspect of mycancer: I only had onetumor. The PET scan didnot detect additionalcancerous cells or tumors.I felt a small glimmer ofhope. One tumor seemedconquerableDr. Ji prescribed 12rounds of a chemococktail spaced every two weeks. First, Iunderwent port surgery to prepare forchemo. The bump in my chest where theport was located was a punch in the face.I was ocially a cancer patient.Life is So SweetByDarlene G. Zangarawith Anne Sittner Anderson
Page 13
27For me, the side eects ofchemo were awful. I wasconstantly nauseous, dizzy,and exhausted. I vomitedand cried. I got additionalmedications to help managethese side eects. Theyhelped a bit.My hair began to fall outafter the second round ofchemo. My beautiful hair.It felt like losing a part ofmy identity.It was time to buy awig. I wassurprised howexpensivethey are. Iended upbuying one thatwas a closematch to mynatural hair, butquite itchy. I triednot to scratch. Athome, my familyand friends lovedseeing me bald, andI became creativewith hats, wigs, andbeanies.In the early days of my new jobwith the Commission, I wantedto be transparent with mycoworkers and the people weserve. In return, I learnedthat people arecompassionate andsupportive. My new teamshowed just how talentedand accomplished they are.I was determined thatcancer would not interferewith the important workwe do.Finally, some good news!I was halfway done with chemo and thetumor had shrunk. I could havesurgery! The doctors removedhalf of my pancreas, myduodenum, part of my stomach,and my gallbladder. They alsoredesigned how my bodyprocesses food by creating a newaccess to my stomach using thesmall intestines.It is a complex and intensivesurgery. I was afraid, but I knewsurgery was my best chance tosurvive. My faith ebbed and owed.My community strengthened me. Ilearned the power of surrendering control.I wound up staying in the hospital for veweeks while my body gured out the newway of processing food. I was heavilymedicated and slept a lot. My body wasnot recovering easily. I often doubted Iwould survive.Thanks to COVID-19, my Mom and myhusband were not allowed to be withme for the last six chemo treatments.I sat alone with sad and overwhelmingthoughts. At the end of the day,I would meet Mark outside and hewould drive me home with care andlove. I would crawl into bed and cry.It was so hard. Finally, Inished all the chemo andgot a new PET scan. Thenews was good. No traceof cancer.My strength has been testedin ways I never expected orwanted. Cancer took controlof my life without mypermission. I was forced toreexamine my faith in God. Myfamily, friends, and communitycarried me through thisprocess. Now, with joy and arenewed faith, I've taken mypower back.
Page 14
Life is So Sweet, continued from p. 27My priorities haveshifted. I know whattruly matters, and I'mgrateful for the thingsand people in my life.Free from past angerand regrets, I'm sothankful that I amhere. Best of all, I'vebeen able to hold myrst grandchild,Lucas, in my arms.Life is so sweet.Darlene Zangara, Ph.D.lives in St. Paul,Minnesota, with herhusband, Mark, andtheir dog, Goose. Hermom Carol lives a 10-minute drive away.A life reborn, with grandson Lucas28My wonderful family – son Noah,mother Carol Goncz, husband Mark,me, son Nick, daughter-in-law Rebeccaand our dear dog, Goose
Page 15
Jerey JanaszekCo-ChairJames " Chris" NoscheseCo-ChairJean TonerSecretary and Tours CoordinatorSteven "SFO" FochtmanAssistant SecretaryLarry HastTreasurerLarry SullivanEx-President of PAD Senior CitizensRobert "RA" AndrasickGateway Clipper Coordinator and EmceeSharon AntalRegistration and Workshop FloaterSuzanne BabichSpecial Events CoordinatorJudy BakerAssistant to Registration ChairSusan BiedlemanAssistant to Registration ChairKathy BetzExhibition CoordinatorDanielle FlipInterpreter CoordinatorDavid FulmerWebmasterKaren HaleyAssistant to Registration ChairDebra HastWorkshop CoordinatorLori Ann LaSorsaSpecial Needs CoordinatorAlex LemanskiHotel Security CoordinatorJohn MacWilliamsAssistant to Fundraising and Auction ChairTherese MacWilliamsFundraising and Auction ChairHolly MendelAssistant to Fundraising and Auction ChairPaul MentePublic Relations ManagerKathleen MurphyAssistant to Workshop CoordinatorCheryl NoscheseEntertainment Coordinator and EmceeViolet PetrickRegistration ChairAndrea SchneidmantelAssistant to Souvenir Program CoordinatorBrad SchneidmantelSouvenir Program CoordinatorGrace Shirk-EmmonsAssistant to Fundraising and Auction ChairJames TonerSingo, Trivia and Talent Show ChairOn behalf of the members and board of Deaf Seniors of America,we want to thank the wonderful Conference Committee members inPittsburgh for the amazing work they did preparing for the 2021 DSAConference. Although ultimately the conference had to be cancelled,the Conference Committee had a great program ready to go. We thankthem for their hard work and outstanding commitment.—Al Sonnenstrahl, President, Deaf Seniors of America29Pittsburgh, Thank You!
Page 16
30Deaf Seniors of America membership is $20.00 per person. It is good until the 2023 DSAConference in Hollywood, FL. Membership includes the DSA magazine, New Horizons, which ispublished four times each year (one issue per household).If you are a current member and you plan to move or have recently moved, please use this formto send in your new address.PRINT CLEARLY — Use one form per person; make a copy for each additional person.First Name: _________________________ Last Name: _________________________________________Street Address: ___________________________________________________________________________City / State / ZIP Code: ____________________________________________________________________Email Address: _________________________________ VP: ________________ Text: ________________Make check payable to Deaf Seniors of America and mail it with this form to: Michael Lockhart,DSA Treasurer, 5619 Ainsley Court, Boynton Beach, FL 33437-1503.AdvertisementsMembership / Change of AddressDSA welcomes advertisements from interested companies and nonprot organizations.• The New Horizons magazine is published quarterly and distributed to over 2,000 memberswith a readership of about 5,000 and an additional 20,000 readers via the DSA website.• Advertisers who purchase four insertions at a time will have their logos featured on the DSAwebsite at no additional cost.• Nonprot organizations receive a ten percent (10%) discount on the advertising rates below.• Advertisements must be in full color, press-ready (300 dpi or greater) and delivered in PDFformat. Custom ad design is available for an additional cost.Ad PlacementDimensionsOne IssueFour IssuesFull Page8.5" wide x 11.0" high$500.00$1,800.00Inside Back Cover - Full Page8.5" wide x 11.0" high$650.00$2,300.00Centerfold - Double Pages17.0" wide x 11.0" high$1,200.00$2,300.00Outside Back Cover - Half Page8.5" wide x 5.5" high$500.00$1,800.00Half Page - Horizontal8.5" wide x 5.5" high$400.00$1,400.00Half Page - Vertical4.25" wide x 11.0" high$400.00$1,400.00Quarter Page - Vertical4.25" wide x 5.5" high$250.00$800.00Business Card2.0" wide x 3.5" high$100.00$350.00Ad deadlines are January 15, April 15, July 15, and October 15For more information, contactmurielstrassler@gmail.com
Page 17
Experience the best possible VRS with easy-to-use, cutting-edge technology. Connect Life through the clearest video, greatest features, and highest-quality Sorenson Relay interpreters available!Sign up today at svrs.com/apply or download our app at© 2020 Sorenson Communications, LLC. If you choose Sorenson as your default provider, you can port your existing 10-digit number to Sorenson from another provider or Sorenson can provide you with one for the geographic area where you live or work. If you later change your default provider, you can port your number to that provider. When selecting Sorenson, you must provide to Sorenson the physical address (i.e., the Registered Location) from which you are placing the call, so that Sorenson can properly route any 911 calls you may make. If you move or change your location, you must notify Sorenson immediately. You can update your Registered Location from your Sorenson videophone by calling 800-659-4810 or by visiting www.svrs.com/moving. Sorenson will confirm receipt of your Registered Location information. Emergency calls made via internet-based TRS may not function the same as traditional E911 service. For example, you may not be able to dial 911 if there is an internet-service failure or if you lose electrical power, and your 911 call may not be routed correctly if you have not updated your Registered Location. For more information on the process of obtaining 10-digit numbers and the limitations and risks associated with using Sorenson's VRS to place a 911 call, please visit Sorenson's website: www.sorenson.com/disclaimer. For more information on toll-free numbering, please visit www.svrs.com/tollfree.ConnectingLife
Page 18
RETURN TO:Michael Lockhart, Treasurer5619 Ainsley CourtBoynton Beach, FL 33437-1503Save the Date!17thBiennial DSA ConferenceJune 24-30, 2023Hollywood, FL